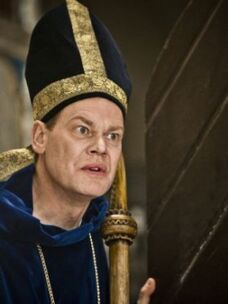 Stygge Krumpen
- den tidligere biskop og leder af Børglum Kloster var en af landets mest magtfulde mænd. Han er selvhøjtidelig, magtsyg og ikke bleg for at rydde folk af vejen, hvis han finder det nødvendigt. Han leder sit sjak af spøgelser med hård hånd, selv om de i de sidste mange hundrede år ikke har kunnet forlade klostret og ikke har haft videre succes med at skræmme beboerne. Han aner nu endelig en lejlighed til at vende tilbage til de levende, og intet skal holde ham tilbage. Stygge bliver spillet af Andreas Bo, der er blevet kendt for sine mange parodier og sit gummiansigt i "Live Fra Bremen".

Information fra: Jul.tv2.dk
Ad blocker interference detected!
Wikia is a free-to-use site that makes money from advertising. We have a modified experience for viewers using ad blockers

Wikia is not accessible if you've made further modifications. Remove the custom ad blocker rule(s) and the page will load as expected.