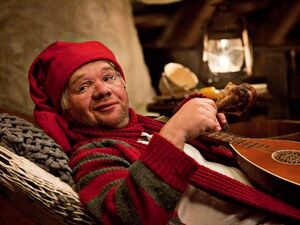 Nicholas
er sådan cirka 550 år. Nicholas boede tidligere på Børglum Kloster og var oprindeligt en rejsende skjald, der levede en sorgløs tilværelse i Nordjylland med sin lut og sine romancer. Nicholas er både sjov, skøn og varm. Han elsker at være julemand, men han synes også, at det er et hårdt arbejde. Da han snart har været julemand i 500 år, skal det selvfølgelig fejres med en fest, for Nicholas er ikke bleg for at sige højt, at det har han fortjent. Nicholas bliver spillet af Lars Hjortshøj, der både er stand-up komiker, skuespiller og tv- og radiovært. Lars Hjortshøj er måske mest kendt for sin rolle som Robert i "Langt fra Las Vegas" og sin medvirken i "Klovn".

Information fra: Jul.tv2.dk
Ad blocker interference detected!
Wikia is a free-to-use site that makes money from advertising. We have a modified experience for viewers using ad blockers

Wikia is not accessible if you've made further modifications. Remove the custom ad blocker rule(s) and the page will load as expected.