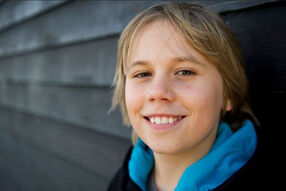 Ludvig
er 11 år og en meget begavet, kærlig, åben og nærmest lidt gammelklog dreng, der er præget af allerede at have boet over hele verden. Han tror ikke på julemanden, og så savner han sin far helt vildt. Men Ludvig er modig og har masser af gåpåmod og lader sig bestemt ikke skræmme så let. Ludvig bliver spillet af Thomas Norgreen Nielsen, der også har spillet Bølle Bob i filmen "Bølle Bob - Alle tiders helt".

Information fra: Jul.tv2.dk
Ad blocker interference detected!
Wikia is a free-to-use site that makes money from advertising. We have a modified experience for viewers using ad blockers

Wikia is not accessible if you've made further modifications. Remove the custom ad blocker rule(s) and the page will load as expected.