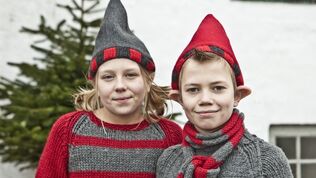 Klik og Klak
er Julemandens hjælpere. Klik er den nervøse, hjælpsomme nisse, der går meget op i ikke at lave fejl, mens Klak er en på overfladen meget loyal, nærmest slesk overnisse, som Julie og Nicholas betror store opgaver. Men Klak er ikke sådan til at stole på, og det får store konsekvenser. Klik spilles af Adam Sønderby, og Klak spilles af Martine Salling.

Information fra: Jul.tv2.dk
Ad blocker interference detected!
Wikia is a free-to-use site that makes money from advertising. We have a modified experience for viewers using ad blockers

Wikia is not accessible if you've made further modifications. Remove the custom ad blocker rule(s) and the page will load as expected.